I participated a conference in Zakopane from the 3rd of June to the 7th. Luckily, I could convince my colleague to stay two more days climbing at the Tatry, and then do a detour to Katowice and run the 1st Katowice Halfmarathon. Since this was the debut for a hopefully long series of events, I thought I summarize my experiences. The post serves both as a feedback to the organizers, and it may convince You, another runner to travel there next year :-)
If You are not interested in a detailed review, scroll to the Conclusion, otherwise let's go in chronological order, and see what was good, bad, or ugly.
Before the race
Registration process
My Polish knowledge is very limited. I know "Uwaga", "Piwo", "Polak, Węgier, dwa bratanki, i do szabli, i do szklanki.", and that's roughly it. When registering for an event abroad, it is always a concern, whether You can do that in English or consultation with Google Translate is constantly needed. I've seen some pretty bad examples over the years, but this race was fine. I could do the registration in minutes, and pay the fee with my Wizz credit card easily. I also got e-mails and FAQ in English, so this was flawless, kudos to the organizers.
I have to mention here as well, that the registration fee was really cheap. Depending on how fast You are compared to others, the fee changes. The range was from 49-69 PLN which is roughly 11-16 EUR. I payed the middle price for 14 EUR, but I also asked for a Wizz scarf for an additional 4.5 EUR. A 20 EUR Wizz voucher was also promised, so basically, the registration fee was less than the value of the voucher. Big plus.
Getting the race package / race center
We went from Zakopane to Katowice on Saturday to get our race package comfortably, stay at a hostel, and walk to the start line the next morning. We could have gotten our package on race day as well, which is a nice thing for people living in 50-100 km from Katowice, as they do not need to go there twice or spend a night in a hostel.
Spodek is an easy place to find, but there we had to have eagle eyes to recognize the small black and white A4 papers that directed us towards the race center that was in the back. Not a big issue, but having a bit larger Wizz-pink signs would be a good idea for next year. As I could see, we were not the only ones, who were a bit lost, but again, I'm sure that everybody could find the race center eventually.
Getting the race bib and my shirt was quick, the staff was really friendly and helpful, everything went smoothly. For the scarf I had to ask, but they guided me to another stand, where I got it immediately. Again, for that 14 EUR I got a nice technical shirt as well. Kind of unbelievable. The package contained an isotonic drink, and some other advertisements/discounts, that I was not interested in. However, we could also use public transportation for free on Saturday and Sunday, that is again, awesome!
Race day
Before the start
Finding the race site was easy, we just had to go back to Spodek. As the event is not (yet) a giga-scale race, it was easy to put everything into close proximity (start line, stage, race center, luggage deposit, etc.). This is a big advantage of small races compared to really big ones, where You may need to walk serious distances to get from one place to another, and really have to study the race center map in advance.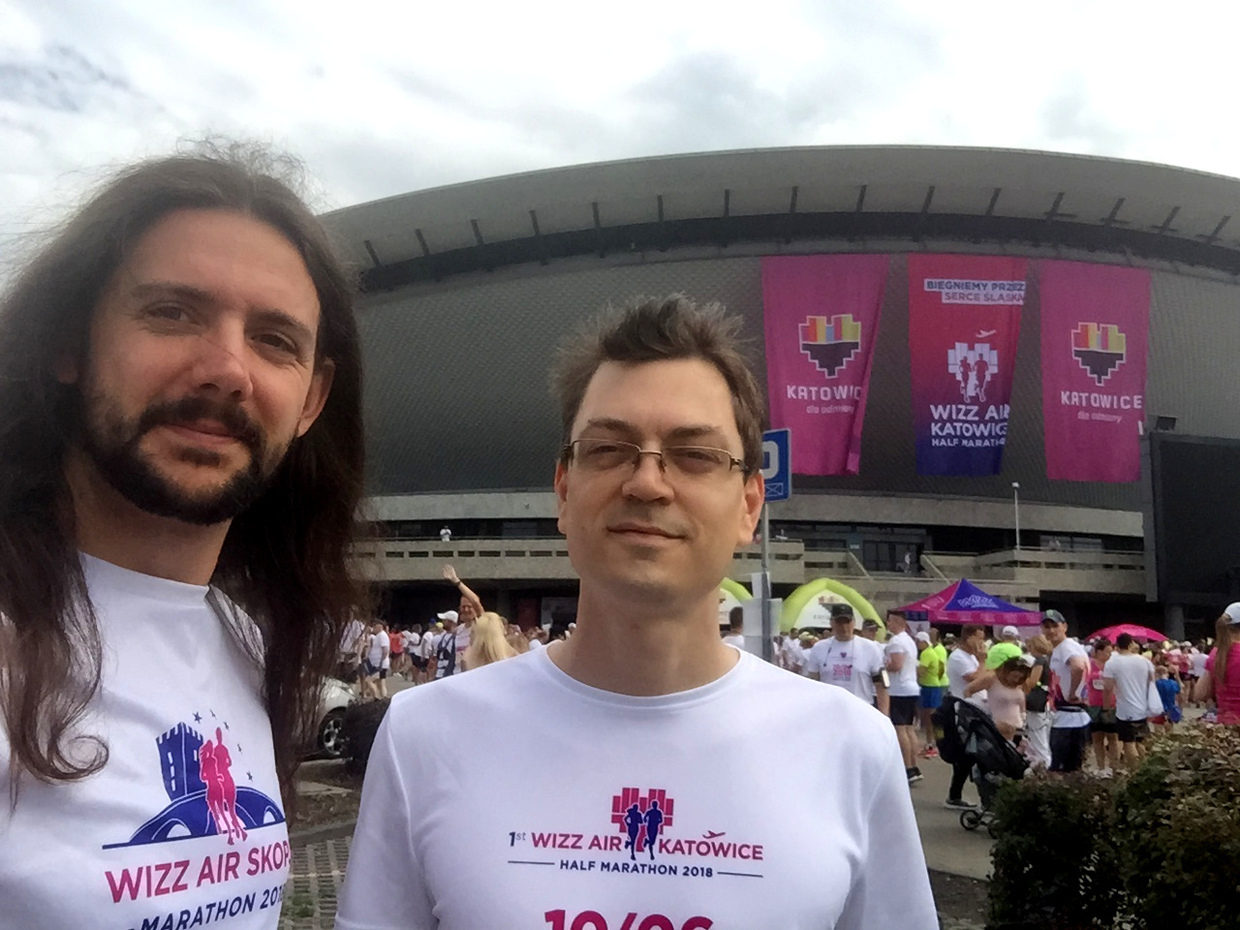 Since we left the hostel only with our running gear, we did not need to drop off any luggage, but I've seen that there was a pretty long queue for that. To my great sadness, the same happened at the Wizz Air Lucky Wheel. ☹
There was short warmup for all of the races, which is nice, though I am a lazy person, and I just waited for the start.
The start
Maybe I did not study a map well in advance, but I was not 100 percent sure, where the start zones are exactly. The gates were there, so I had a general idea, but 5 minutes before the start the 1:50 pacemaker girl was further from the start gate then the 2:00 guy. Also, the timer car had to pass through the runners as well. This is just a small thing, and did not cause any problems or major discomfort as I was not aiming for a PB. I'm sure, that the organizers will do it right next year with this experience. There are small things, one does not think about for the first time.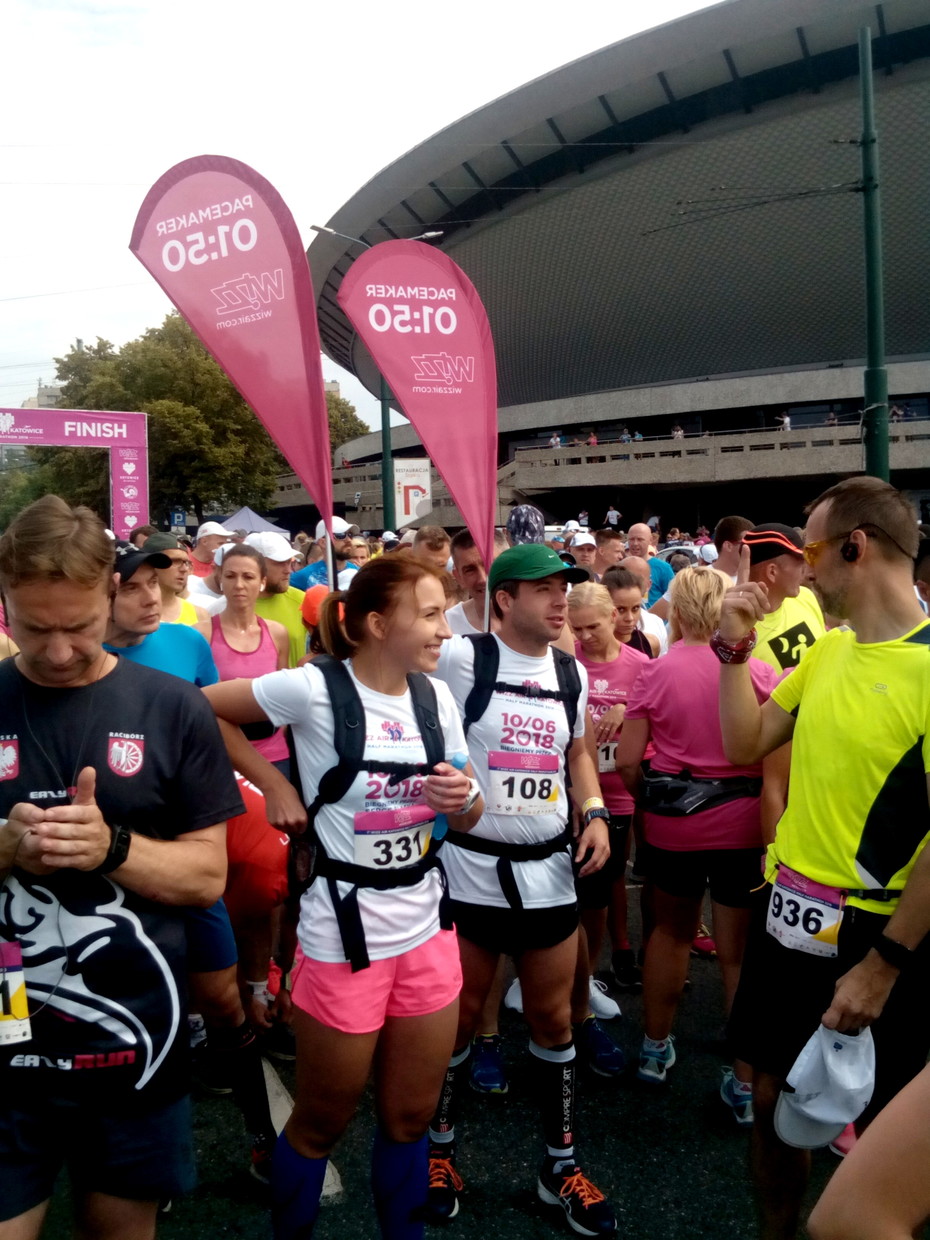 On the other hand, my ears are maybe a bit bad, but I haven't heard the countdown for the start at all. I just recognized, that the crowd started moving. Well, Ok, let's run then.
The race itself
The route
In the beginning I was not very fond of the route selection. Big city, big roads, huge residential buildings, pretty boring. Moreover, I had to overtake a lot of slower runners on crowded roads, but that's probably thanks due to the start line confusion.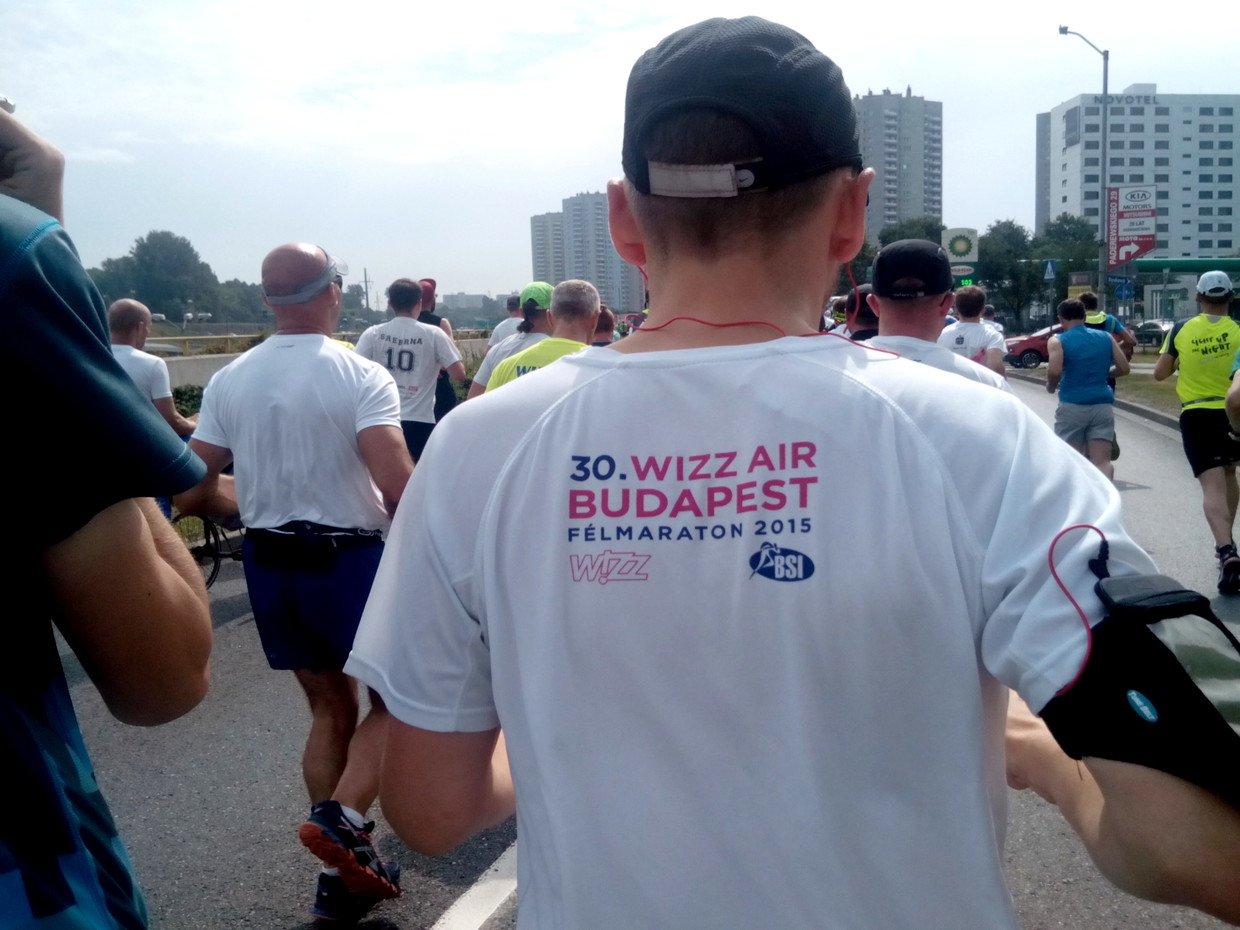 After the first few kilometers, however, I loved the track. The park was really nice, not to mention, it had more shades in that hot weather. Because the weather was hot, and the humidity hit the roof thanks to the showers before the race. Also, the last few km in the city was more pleasant than the first part. So alltogether I really liked the track. I don't know the city, so I don't know how much we have missed, but I was satisfied with what I got.
There is something else to note here: this HM is not flat. It has a lot of small hills, so be prepared for that. The overall elavation was around 140 meters according to my Garmin. Another plus is, that there were no big repeating segments.
Refreshments
We had water pretty often, every 2.5k I think. There were a lot of places where we had isotonic drinks as well, however, in the beginning it seemed, that the stuff could not keep up with the runners, and they started to give away whole 5 dl bottles of isotonic drinks to runners. Of course, most of them threw it away after 1-2 sips, which is a big waste and environmental footprint. On the other hand, most of the points served water in paper glasses, so there is an environmental plus there.
To be honest, I have no idea about the food, as I usually do not eat on a half marathon, especially in case of a sub 5 pace. I've seen banana and some biscuites at plenty of stations though.
And a word about water sprinklers. I've already mentioned, that the weather was really, really hot and humid. So it was a very good idea to deploy water sprinklers. But... why only at 18k and 20k? :-D I am sure, that each and every one of the half marathon runners would have loved those at the beginning and middle of the race too.
Safety
It seems kind of obvious, but I think it is important to have some words about this too, as this is typically one of those things that we only recognize when it is missing. So, there was no problem with safety. When we were running on big city roads, they were closed, and police officers guarded us.
Atmosphere
The atmosphere in general was nice, but one could feel, that this race is not yet in the culture of the city. Not so many people cheering, no voluntary musicians along the way, etc.
After the race
The finish line was a bit crowded, and it was a bit confusing to whom I should go at first, but then I got my medal, a bottle of water, and I got immediately to the square in front of Spodek. One would miss the beer, chocolate, etc. that I got used to receive at the end of the races in Budapest for example. I'd like to remind those people, however, on two things: how cheap the registration was, and that we got a nice warm soup later on. Here I want to note, that they had a vegetarian option, which I really appreciated.
I have read online, that some people could not get their medal due to a logistics error. This did not happen to me, and yes, it is pretty unfortunate, but as far as I've seen, that organizers are doing everything to resolve the issue as fast as possible, and send off the missing medals.
I am writing this post on Monday around 6pm. The last time I checked, the results and/or photos were not available on the website or the facebook page of the event. To me, personally, this is not a big deal, and I'll definitely update the post about the developments.
Conclusion
| Aspect | 5-scale rating | Note |
| --- | --- | --- |
| Registration process (for non-native people) | 5 | fast and simple |
| Price compared to all the services / race package content | 5+ | unbelievably cheap |
| Information before the race | 5 | we got everything we needed |
| How well organized the event was in general | 3.5 | some first timer mistakes, but nothing serious |
| Route selection | 4.5 | No big repetition, and I really liked the park |
| Refreshments | 5 | Nothing to complain about :-) |
| Atmosphere, "entertainment" during the race | 3 | Nothing special |
| Medal/shirt design | 3.5 | Average |
| Photos/Race results | N/A | Will update later. |
Verdict, would I recommend it? Absolutely!
Final note
If You are not Polish, You have probably never heard of Katowice before. Neither have I. So the first thing to check is how difficult is to even get there. I've only checked the Wizz map now, but they operate flights from 40+ other airports, so Katowice is really a difficult thing to do.